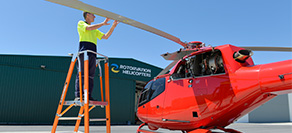 Traditional reliability and solid performance. Australian made timber ladders continue to set the standard for quick access in challenging industrial environments.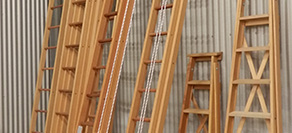 Industrial, Fibreglass and Timber Safety Ladder Specialists
Western Ladders is Australia's specialist manufacturer in Industrial Fibreglass & Timber Safety Ladders. Operating since 1995, Western Ladders has a strong reputation for manufacturing high grade timber ladders for markets where aluminium products are not suitable or acceptable. Western ladders have also been providing Fibreglass single, extension and platform ladders to our clients for more than 15 years.
We are now proud to introduce our new LADDERFORCE range of fibreglass ladders, specifically designed to meet the needs of our industrial customers. LADDERFORCE is a brand of High Strength and Durable Fibreglass Safety Ladders that are Lightweight, Practical and Reliable. LADDERFORCE brings together 20 years of experience in ladders to provide our clients with cost effective pricing for the safest "fit for purpose" ladders that meet or exceed Australian standards.
Our ladders and platforms are used by power utilities, production, mining and extractive industries, and are manufactured to the highest standards to provide reliable, durable ladders and platforms.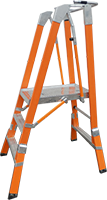 Servicing, Repairs & Parts
Replacement Ladder Program with 24 Hour turnaround option on your broken or damaged ladders.
For a quote specific to your requirements and sizing, call 08 9497 3494.